Hi everyone!
I am linking up with
Kickin' it in Kindergarten
for the
Worksheets Don't Grow Dendrites
book study!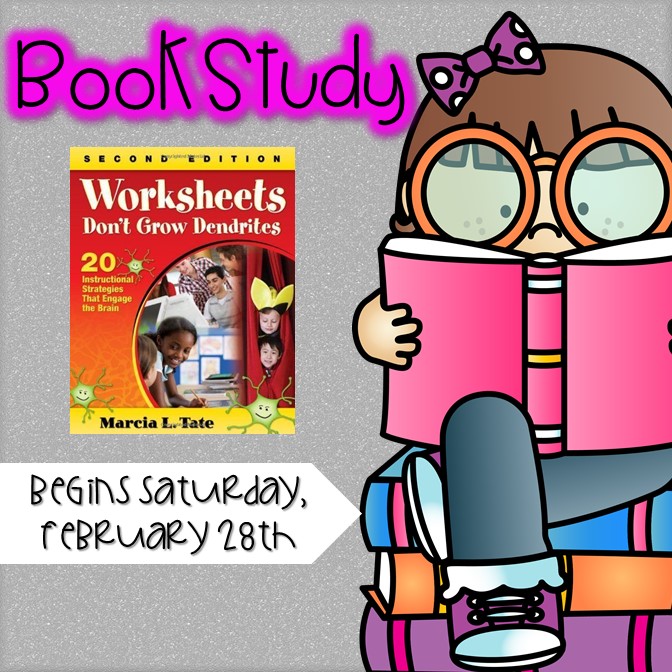 This book is quick and easy to read, and grabs your attention right away. It begins with the story of two different teachers. One who lectures, and reaches some of their students, and one who truly engages their students through meaningful activities. The goal of these activities is to reach all of the different learning styles in your classroom, and to provide opportunities for the learning to really stick with your students for a lifetime.
I know we all get caught up in the hectic, fast paced life of teaching, and we get stuck in a rut using the same old methodologies (or is this just me? : ) I do a lot of these activities, but the book has already given me some new ideas to try, and some ideas that I can take back to the rest of my staff, and use as professional development for them.
There are 20 chapters in the book and they each outline a specific strategy to engage your students. Chapter 1 focused on brainstorming and discussion. Students need to talk things out, we as adults find this exceedingly helpful, but don't always give our students the time they need to achieve this.
Out of all the instructional activities listed for this strategy, I really latched on to the sentence starters. The book mentioned how this strategy is great for ELL students, which comprise 95% of my class. Many times, they struggle to find the right words to express themselves, and I thought these sentence starters were a great way to teach them new vocabulary, and encourage them to share their thoughts and opinions.
I created these talk cards that can be kept in your shared reading area. After reading a story, pull out a couple of the talk cards, and encourage your students to share their opinions.
If your would like a free copy of these talk cards, just click on the picture above.
Chapter 2 was all about drawing and artwork. To be honest with you, this is an area that I struggle with particularly because of my own lack of artistic skills. Keeping all learning styles in mind, it is truly important to give the students an opportunity to create pictures. It's just another way for their minds to grab on to a particular concept.
My favorite instructional activity from this chapter was creating drawings to accompany a particular vocabulary word. I created a math vocabulary book for my students to record drawings after a vocabulary word has been introduced.
You could shrink this to 50% of the size if you wanted to save some paper or have them keep it in an interactive math journal. If you would like a free copy of the math vocabulary book, click on the picture above.
If you would like an editable slide for the math notebook, click
HERE
.
The first two chapters of this book were great, and gave me some quick and easy activities that I could use with my students to enrich their learning experience. I'm excited to see what others teachers took away from these first 2 chapters as well!
20